MORE THAN JUST MENUS
Introduce new menu items,
tempting promotions, sponsorship
advertising, directional signage
and more at the point of sale. All
through an intuitive interface.
Directional Signage
When an event ends and guests/fans leave the venue, let fans and guests know which way to exit
Task & Management Lists
Help operationalize clean up by displaying a reminder or to-do list for pre and post event tasks
Promotions & Notifications
Feature partner and house promotions with exciting offers and animated graphic messages
Overview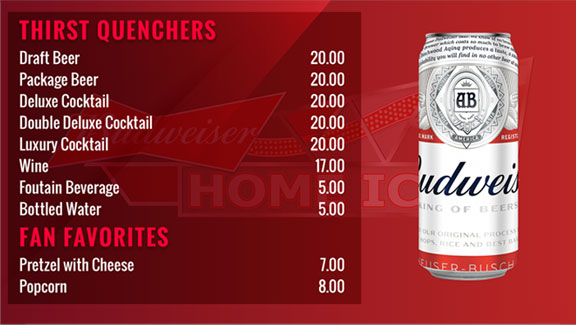 Since 2017, our goal has been to
create the highest-value, scalable
dynamic menu board display
system in the market while helping
to operationalize venue concessions.
All for a cost-effective price.
Quick updates & item removal
Whether making content changes in the AmpBoards CMS or from a 3rd party POS database, changes will appear dynamically within seconds so you don't have to worry about outdated content.
Change items based on inventory
As inventory becomes low or products run out from location to location, specific food items can be swapped out for another product with ease. For the end of alcohol sales at the end of an event, use the disable feature to remove all alcohol items from boards while keeping the menu design composition intact.
Dynamically swap, show or hide content
For venues which hosts multiple events or wish to turn menu boards into alternate messaging during the course of an event or for another brand, the swap feature allows you to show any alternate content such as directional signage, concession clean up list, or change from sports theme to concert, venue branding or other.
POS, DB and API integrations
API keys and table functions builder within AmpBoards enable any database content from 3rd party vendors to pass through the CMS and be updated on the end points.

Key Features
Dynamic Text Sizer
As a list of items becomes longer than usual and outgrows the container, text will begin to decrease with the more items added.
Advertisement/Sponsors
Many menu board templates come with pre-built containers made for advertisements, messaging, house ads and more. Animate multiple advertisements with the ad slider feature under global switches.
Global Switches
When the need for making content changes to multiple screens in multiple places, global switches gives you the ability to affect those changes in one easy location within the CMS.
Media Library
Drag and drop, review, organize, sync, swap and replace all your static or animated gif graphic images within the media library.
Template Library
Choose from a selection of HTML templates and create new menu boards quickly and easily for your venue or fans.
Permissions
Keep concession managers focused on their specific environments by setting permissions based on your needs.
Technology Flow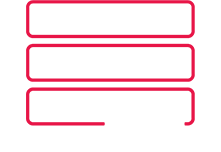 POS Data Base
AmpThink CMS will pull names, descriptions, pricing and other desired information from the DB


AmpThink CMS
Ability to control themes, templates and view/hide specific menu items. Prefer to keep images hosted with CMS to have tighter control on image quality.



POS Data Base
Unique IP address for each board is synced to a specific end point within each concession area. Most types of media players are supported

End Points
Physical TV displays
Content Services
Beautiful creative & intelligent strategies for compelling fan & guest engagement
We believe in the power of digital creative design and the emotional connection it brings to an audience. Whether it's a branded menu board or signage deployment, an instant win promotion, gear giveaway, interactive directory or other medium, the creative execution is as important as the strategy behind it. We have an award winning team of graphic designers, motion designers, developers, photographers and illustrators all working to deliver you the best creative possible.